Check Point Endpoint Firewall and Compliance Check

Potects endpoints by controlling inbound and outbound traffic and ensuring policy compliance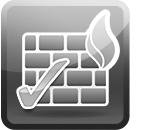 The Check Point Firewall & Compliance Check Software Blade protects endpoints by controlling inbound and outbound traffic and ensuring policy compliance, with centralized management from a single console. Definable zones and security levels protect endpoint systems from unauthorized access. Integrated stealth technology makes endpoints invisible to attackers. This software blade is easily managed by unified Endpoint Security Management.
Benefits:
Comprehensive endpoint security and policy compliance
Desktop firewall secures endpoints by regulating inbound and outbound traffic
Centrally definable traffic control, security levels and stealth technology
Compliance Check ensures that endpoints are in compliance while accessing the corporate network
Integrated into Check Point Software Blade Architecture
Easily activate endpoint firewall and compliance check on any endpoint
Flexible licensing options - annual or perpetual
Centrally Managed
Centrally managed and deployed
Shared object data base with Network Firewall allows easy setup
Features:
Desktop Firewall
The desktop firewall protects the integrity of endpoints by regulating inbound and outbound traffic. Definable zones and security levels prevent malware from infecting endpoint systems, block targeted attacks and stop unwanted traffic. Stealth technology makes endpoints invisible to potential attackers. Check Point leverages 17 years of Check Point firewall technology leadership.
Compliance Check
With compliance scanning, endpoint systems are scanned for compliance with corporate security policy. Systems failing compliance can be directed to remediation.
Administrators can ensure that endpoints are compliant in a number of different areas including:
Endpoint Security Client software is up-to-date
Endpoint has the latest authorized Operating System Service Packs
Check for "blacklisted" applications either running or existing on endpoint
Check for authorized anti-malware software, versions and DAT updates.
Centralized Management
The Firewall & Compliance Software Blade is centrally managed by the Endpoint Policy Management Software Blade, enabling central policy administration, enforcement and logging from a single, user-friendly console. Centralized management offers unmatched leverage and control of security policies and multiple deployment options offer easy installation and minimize user impact, for a reduced overall cost of operations.
Integrated into Check Point Software Blade Architecture
Endpoint Security Software Blades from Check Point bring unprecedented flexibility, control and efficiency to the management and deployment of endpoint security. Choose from six Software Blades to deploy only the protection you need, with the freedom to increase security at any time from a single central management console.
Specifications:
Compliance Check
Anti-Malware Vendors and Versions Checked by Compliance Check
Check Point, Symantec, McAfee, Trend Micro, Kaspersky, Nod32, AVG, Avast, Sophos, Panda CA, Inoculate IT engine, BitDefender, MS Forefront
Firewall Options
Configuration Options
Inbound Firewall, Outbound Firewall, Stealth Mode
Platform Support
Operating Systems
Windows 8 (32 & 64-bit)
Windows 7 (32 & 64-bit)
Windows Vista (32 & 64-bit)
Windows XP Pro (32-bit, SP2 and later)
Windows Server 2003 32-bit - Compliance only
Windows Server 2008 (32 & 64-bit)
Windows Server 2008 R2 (32 & 64-bit)

Client Language Support
Languages
English
Japanese
French
Italian
German
Chinese (simplified)
Spanish
Russian